AUSTIN — Texas is the 8th worst state in the country for kids, according to the 2020 KIDS COUNT® Data Book report from the Annie E. Casey Foundation released today. One in 10 of the nation's schoolchildren live in Texas. The policies enacted by Texas leaders hold the power to change the course of our nation's future, either by significantly improving child well-being for all or by exacerbating generational inequities.
"It is appalling that Texas children continue feeling the weight of systemic inequities that state leaders fail to address year and year, generation after generation," said Ann Beeson, CEO of Every Texan (formerly known as the Center for Public Policy Priorities). "When looking at the racial disparities that children of color are facing even before the pandemic, it's clear that policy solutions drafted during the recovery need to rewrite the rules and build a more just and equitable Texas where children of all backgrounds can thrive."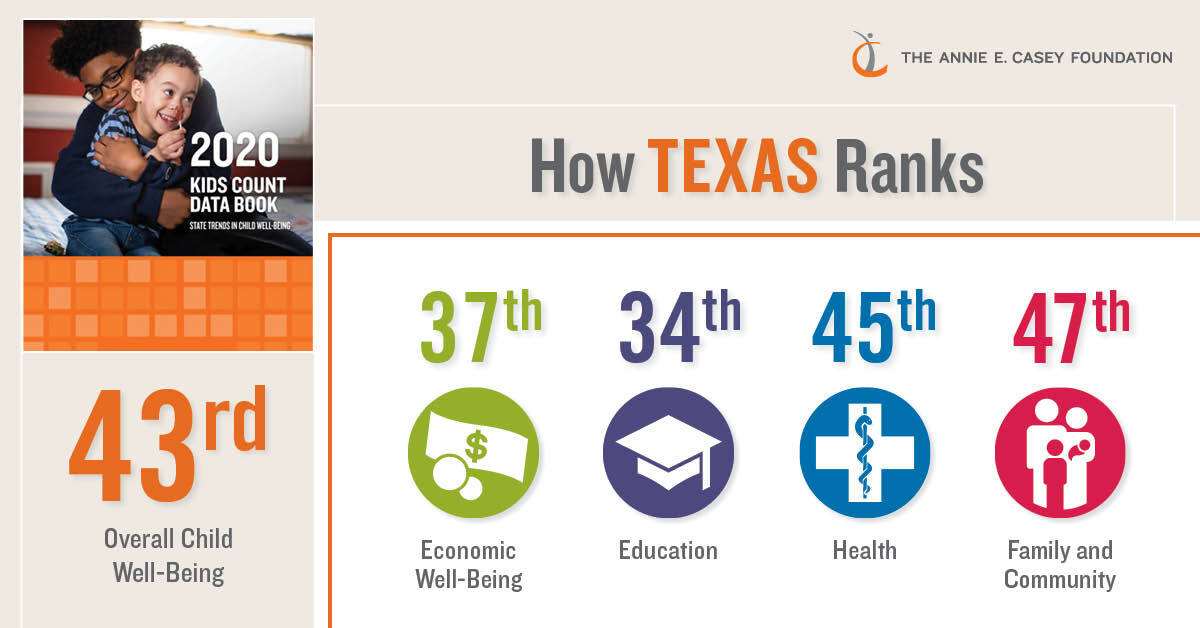 Texas is now ranked 43rd in the nation on child well-being. In context, Texas has the worst uninsured rate and most hospital closures in the country. The pandemic has exposed a lack of health care prioritization and the consequence of underfunded public schools and has laid bare an economy that didn't work for everyone. Over time, this has created systemic gaps, which left specific groups of Texans more vulnerable when the COVID-19 pandemic hit.
The annual KIDS COUNT Data Book tracks child well-being nationally and ranks the states by how well they are doing for their children using 16 indicators to rank each state across four domains — health, education, economic well-being and family and community — as an assessment of child well-being. The figures in the 2020 Data Book are primarily from 2018, the latest year for which data are available. Specifically:
Texas is falling behind in affordable housing, with 32% of children in rent-burdened households (meaning they spent more than 30% of their income on housing); Texas ranked 26th in the nation in 2010 and 40th today. While one in five white children lived in a household with a high housing cost burden, twice as many African American children did.
Texas is performing relatively well on the percent of high school students graduating on time, ranking in the top 5 since 2010-11. Rates improved for students of all races from 2011 to 2018, although disparities between students remain: 15% of American Indian and 14% of African American students did not graduate on time as compared to 6% of white and 4% of Asian or Pacific Islander students.
Texas is falling behind in children's math proficiency, with 70% of children scoring below proficient in math (ranked 18th in 2009 and 35th today). Rates of eighth-graders not proficient in math were particularly high among African American and Hispanic students – 84% and 79% as compared to 56% and 31% for white and Asian or Pacific Islander students.
Texas has consistently ranked among the 5 worst states for children's health insurance coverage since 2010, again ranking the worst in the nation at 11% of children uninsured for 2018. Once again children of color were more likely to be uninsured, especially Hispanic children (15%). Of deep concern, it is estimated that hundreds of thousands of additional Texas children have already lost health insurance in 2020 due to their parents losing jobs in the COVID-19 economic shut-down.
Given that Texas has added nearly 2.5 million kids since these reports began — accounting for more than a quarter of the national increase — the well-being of Texas' nearly 7.4 million children truly does drive the overall well-being of U.S. children as a whole.
"Experts predict it will take years for our communities to recover from the health and economic turmoil caused by the COVID-19 pandemic," said Amy Knop-Narbutis, Research & Data Director at Every Texan. "It's important that the lawmakers respond with equitable policy solutions that are driven by data and facts because these policies will impact opportunities for children and families for years to come."
The ongoing 2020 Census helps fund schools and health systems in our communities that help children thrive throughout the next decade. The population count happens every 10 years, and an accurate count helps protect Texas' voice in Congress and improve children's quality of life through funding for essential health and nutrition programs. It's not too late to fill out the 2020 Census: 2020census.gov.
Release Information
The 2020 KIDS COUNT® Data Book is available at www.aecf.org. Additional information is available at www.aecf.org/databook. Journalists interested in creating maps, graphs and rankings in stories about the Data Book can use the KIDS COUNT Data Center at datacenter.kidscount.org.
This year, the Data Book incorporates new indicator data on childhood obesity, meaning index rankings for Health and Overall state rankings may not be directly comparable to previous years.
About Every Texan, formerly known as the Center for Public Policy Priorities
Since its founding in 1985, Every Texan (formerly the Center for Public Policy Priorities – CPPP) has expanded opportunity and equity for Texans of all backgrounds. Based in Austin, Texas, Every Texan pursues social justice through public policy. Their dedicated team researches, analyzes, and advocates for public policies to expand equitable access to quality health care, food security, education, and good jobs. Learn more about how Every Texan is making Texas the best state to live in at everytexan.org.
Every Texan has been the Texas grantee for the Annie E. Casey Foundation's national KIDS COUNT Project for more than 25 years.
About the Annie E. Casey Foundation
The Annie E. Casey Foundation creates a brighter future for the nation's children by developing solutions to strengthen families, build paths to economic opportunity and transform struggling communities into safer and healthier places to live, work and grow. For more information, visit www.aecf.org.
###